---
---
For several years my mother's talked of taking a ship cruise. As both she and I are prone to seasickness a river cruise offered by American Cruise lines, Great Rivers of Florida, along the St. Johns River made a good match.
---
The Queen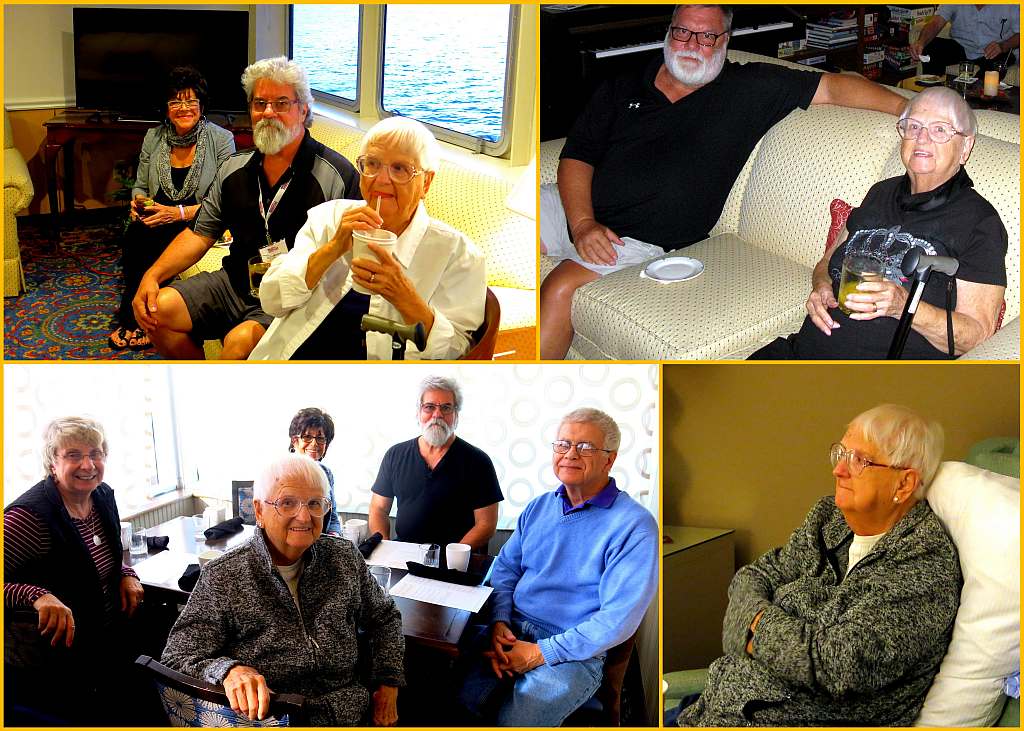 The Queen
Mom's spoken of founding her own chapter of the Red Hat Society reigning as Queen, of course. In the photo above, lower left, Joyce, Paula, Dale and I met for breakfast at our hotel before boarding the American Star. Upper left, under-way, Paula, Dale, Mom and Tom enjoy the passenger lounge. Upper right, Everyone loves Happy Hour. Mom and Tom enjoyed snacks and drinks. Lower right, in her cabin Mom looks out on the river.
---
---
The People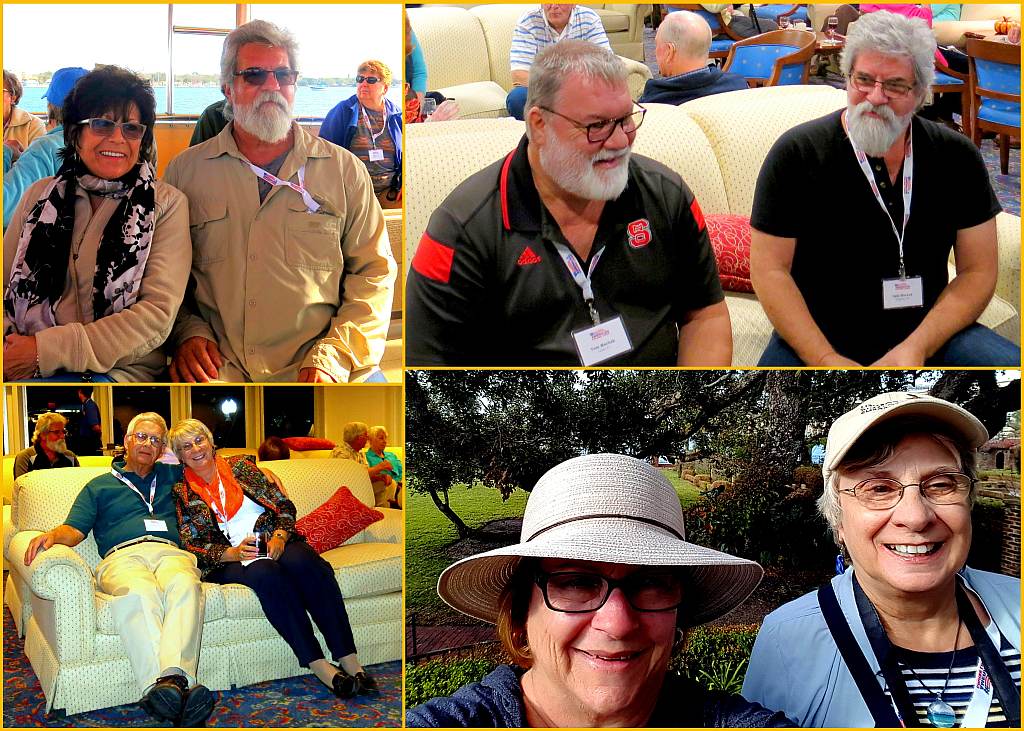 The People
Of her four sons three, Dale, Tom and Ed (Larry unable to come along, business commitment)) along with spouses and partners, constituted the Queens' court. In the photo above, upper left are Paula and Dale enjoying a small boat ride off the coast of Amelia Island. Upper right, Tom and Dale …waiting for the bar to open? Lower left, Joyce and moi lounge in the lounge. Lower right, Janet and Joyce at the Cummer Museum in Jacksonville.
---
---
The Places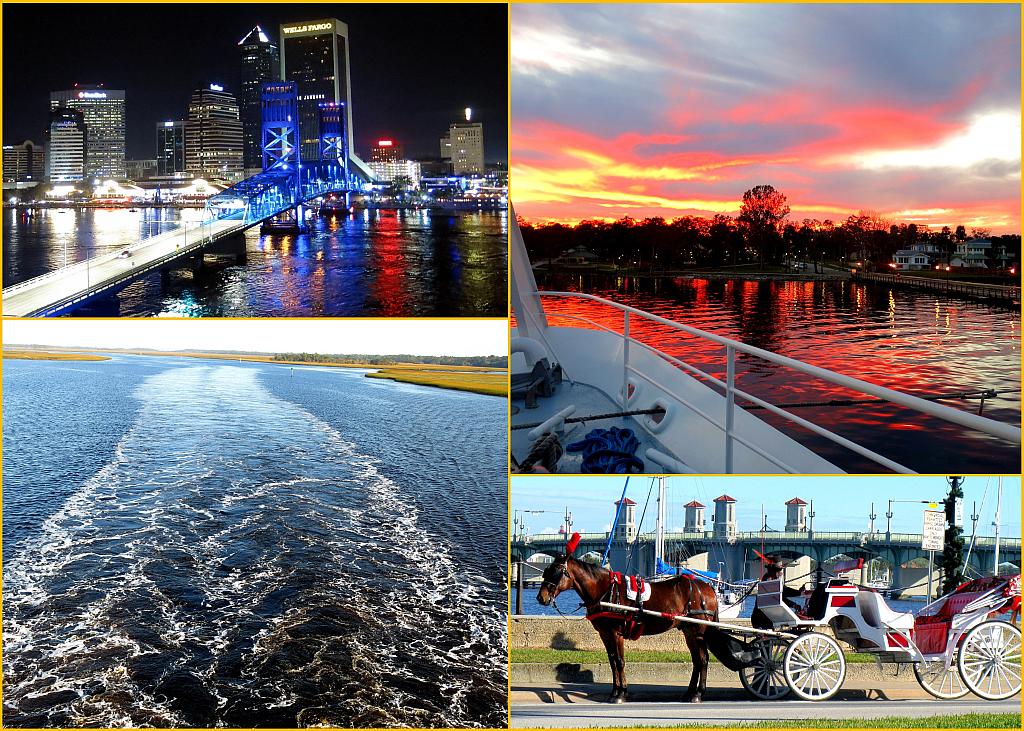 The Places
Arriving in Jacksonville the evening before embarking we were treated to the opening ceremonies of the city's WinterFEST at Adventure Landing. In the photo above, upper left, the Main Street bridge over the St. Johns river is bathed in holiday blue light. Lower right, No web page, any of mine anyway, are complete without a picture of a horse, for instance this handsome horse and carriage in St Augustine, Fl. The Bridge of Lions lurks in the background. Lower left, the St Johns was our constant companion, a welcome partner in our travels. Upper right, sunset along the river.
---
---
Palatka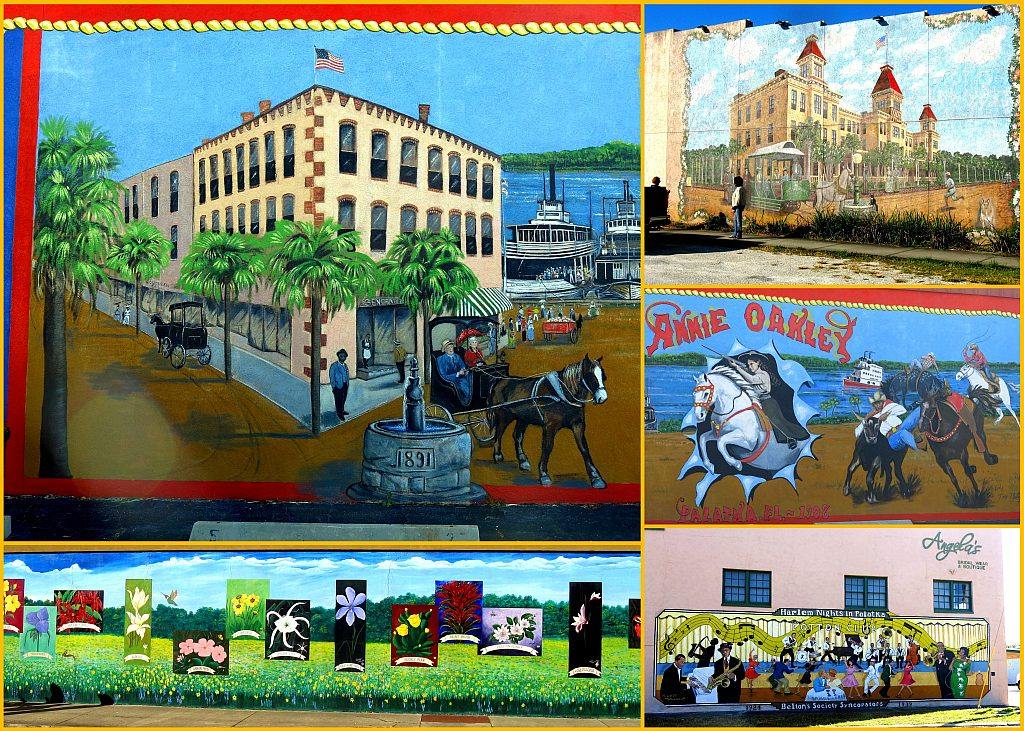 Palatka's a small, quiet, town on the St. Johns river, a town with a secret. A downtown restoration program gifted murals, large and small, on nearly all what had been previously bare walls in the business district. Additional information on individual murals can be found on the Conlee - Snyder Mural Committee website.
---
---
Seen Along the Way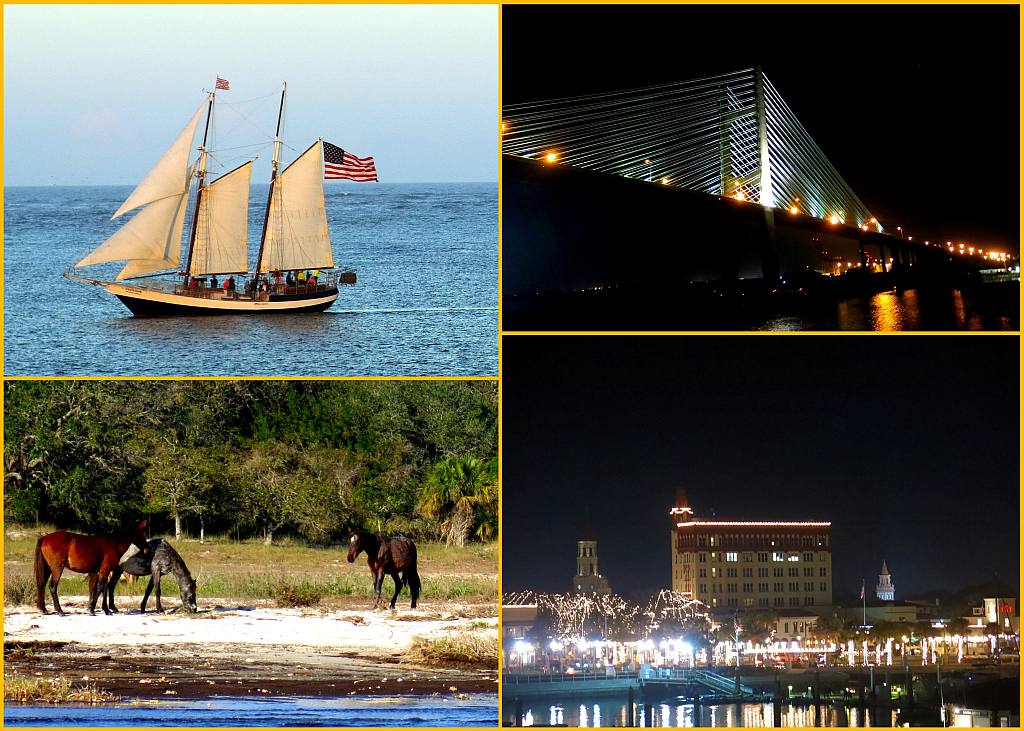 Seen Along the Way
In the photo above, upper right, the Dames Point Bridge across the St. Johns River near Jacksonville, Florida. Upper left, a two masted, gaff rigged, schooner. Lower right, St. Augustine on the Night of Lights. Lower left, wild ponies on Amelia Island, Fl., near Fernandina Beach, Fl.
---
---
Updated: May 28, 2020