GUIDE: (v.) 1. To assist (a person) to travel through, or reach a destination in, an area in which he or she does not know the way as by accompanying him or giving directions. 2. To accompany (a sightseer) to show him or her points of interest and to explain their meaning and significance. Guide implies continuous presence in showing or indicating a course. (Webster's Dictionary of the English Language)
(Clockwise from upper left) Janet, our study leader, Jan, Carolyn and Ellen, professional guides with Glacier Wilderness Guides and Dale, the Smithsonian representative.
These five met every criteria of the definition making our tour memorable. Their presence was continuous and patient as they answered our questions, soothed our injuries and encouraged openness to new experiences. Janet's knowledge of the geology, flora and fauna in the park is exhaustive. Dale was a man-of-all-work. The insights he offered into the workings of the Smithsonian libraries and of his Peace Corp experiences were fascinating. Freeing us from the monotony of the "tour&quot menu was in the finest traditions of the "rep&quot :-) Carolyn, Jan and Ellen obviously enjoyed working with each other and their attitude was infectious.
---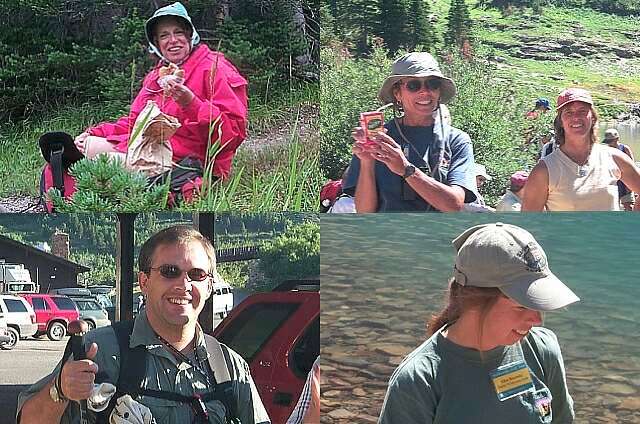 ---
Updated: 8/30/2001