Visiting Scotland's been on my mind for a long time. Why, I don't know. It just felt like I'd be comfortable there. In the Fall of 2007 on a visit to the U.S. Joyce's friend Anne, from Glasgow, invited us to come for a week of sightseeing with her and husband Sandy. We accepted, immediately, adding a week of guided hiking in the highlands.
---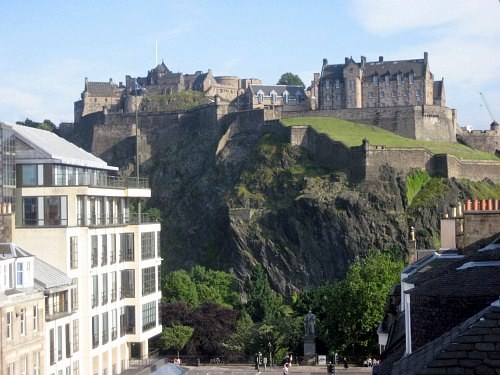 Edinburgh Castle presides over the center city drawing your eyes irresistibly upward. The Palace proper was built in the 19th century. But the castle, built on the hard rock core of a volcano, has been a royal residence since the 11th century.
Recognized as a Royal Burgh in the early 12th century Edinburgh lies on the Firth of Forth near to the North Sea on the Scottish east coast. It is the cultural heart and both the ancestral and modern capitals of Scotland. The University of Edinburgh, founded in 1582, boasts one of the great medical schools in continuous operation since the 1700's. Among many, it's graduates include economist Adam Smith, philosopher David Hume author Robert Louis Stevenson and Dr. Alexander Fleming. Formerly a manufacturing city its' primary business today is finance.
We found Edinburgh a delight and could've happily spent our entire two weeks in Scotland in the city. It's pedestrian friendly and our B&B on Castle Street centrally located.
---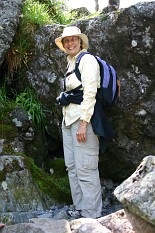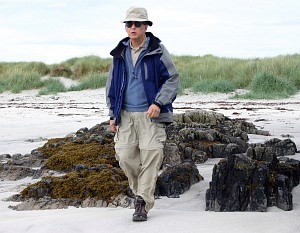 The Southern highlands are more rugged and beautiful than I could have imagined. Driving northwest from Edinburgh the transition between low and highlands was abrupt. Farms and open fields gave way to heavily forested stone capped mountains.
Pictured left, Joyce pauses while hiking in the Glencoe region of the Highlands. On the right, himself strides a stretch of the Traigh an Iar Beach Walk
---
Updated: May 12, 2020