Early in the morning we left Many Glacier Lodge, skirted Swiftcurrent Lake and climbed quickly above Lake Josephine on our way to Grinnell Glacier. Grinnell Falls grew larger, taller and louder as we approached. Salamander Glacier is visible at the upper right with Grinnell hidden below. The Continental Divide runs along the ridge above The Salamander.
Notice the dark band of rock to the left of the salamanders "head?" It's a layer of lava that flowed into the preexisting rock. This band is visible throughout the park, though often offset vertically or tilted at extreme angles, providing a vivid history of the often violent events that formed these mountains.
While not the longest, this hike, for me, this was the toughest. Latent acrophobia made an appearance. The trail, strewn with loose rock and narrow in places with a long fall for the unwary hiker shortened my stride.
---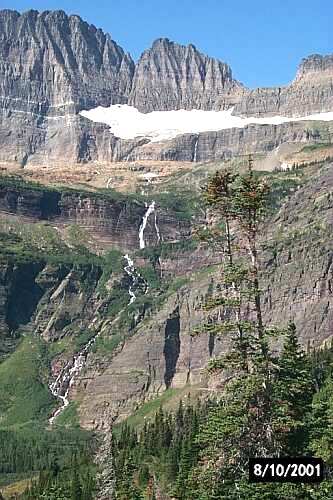 ---
Updated: 8/30/2001