We arrived in Seattle a week prior to joining the hiking group. While there I enjoyed salmon baked, poached, grilled and broiled. Joyce found steaks more to her liking. Neither of us was disappointed or left a meal hungry. We elected not to rent a car. Between driving in a large city and finding a place to park the thing seemed more trouble than it was worth. We rode the city bus system from near our B & B to everywhere we wanted to go.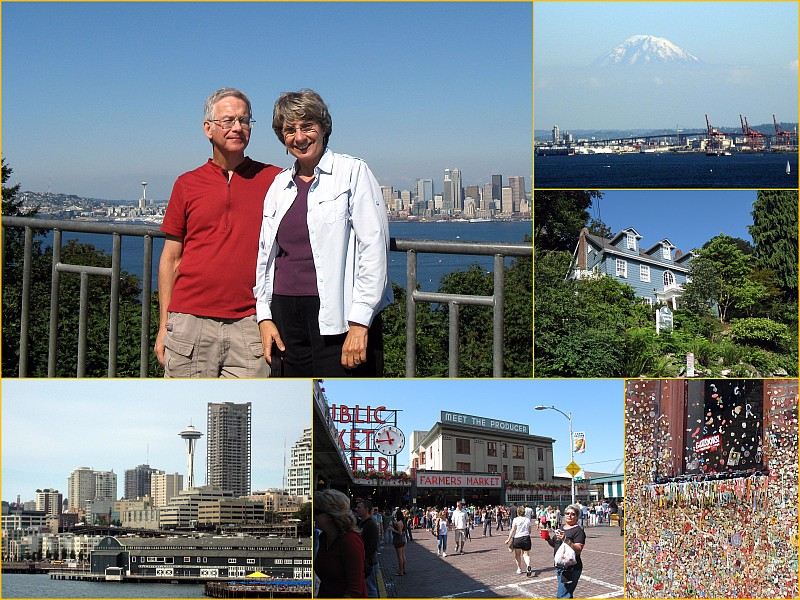 Seattle Montage
In the photo above top left: On a bus tour of the city's neighborhoods we stopped at this scenic overlook of the waterfront. Top right: A clear day provided this view of Mt. Rainier ,75 miles distant, floating over the cities wharves. Middle right: The neighborhoods of Seattle sit atop a series of hills. Right center: Our stay at the Chambered Nautilus, in the university district, involved a hike up a long flight of stairs lugging our …luggage. A bottomless bowl of fresh chocolate chip cookies in the living room proved this B&B was first rate! Bottom right: A small portion of Bubblegum Alley's visible here close by the Pike Place FishMarket. Story has it folks began putting their gum on the wall before entering a local theater and it got out of hand. Urban legend? From a distance it's rather attractive but doesn't hold up well to a closer look. Bottom center: The Pike Place Fish Market on the waterfront's a tourist must see. I'd suggest passing on the fish tossing and head directly to the flower market. Our favorites were both large and small of exquisite bright colors. Bottom left: This photo shows the main waterfront area as seen from the Bainbridge Island Ferry. The long, low, gray building in the foreground's the Seattle Aquarium. The Space Needle is visible from all points along the waterfront.
Bainbridge Island
We spent a day traveling to Bainbridge Island enjoying an afternoon lunch then returning. In the photo upper left: Yours truly strikes a nautical pose on the upper deck of the ferry. Upper right: The ferry's propelled by twin jets hurling water out the stern. To steer the jets are shifted from port to starboard. They work with a roar! Lower right: We're looking down the maw of the drive-on — drive-off ferry. As car-less peons we boarded last. Hundreds of passengers can be carried. Entering the Strait of Juan de Fuca the ship encountered a heavy chop. I really should've taken the Dramamine! On our return trip we waited almost 20 minutes for the stream of passengers returning from jobs in Seattle to debarked. Bottom center: Joyce doing what we do well at lunch on Bainbridge Island. Lower left: A sea gull followed in our wake. Looking for food?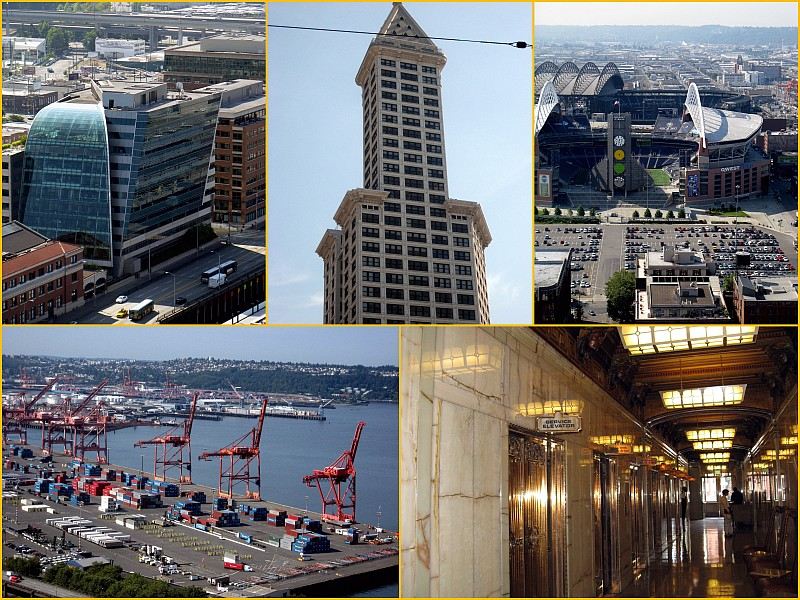 Updated: November 18, 2014