---
---
---
---
---
---
---
---
---
---
---
---
---
---
---
---
---
---
---
Photo above upper left & lower center courtesy of Joyce W.
---
---
---
---
---
---
---
---
---
---
---
---
---
---
---
---
Section updated: Wednesday, Monday, December 29, 2015
---
---
---
---
Section updated: Monday, September 28, 2015
---
---
The promise of warm weekend weather and the recent opening of the new wing at The Corning Museum of Glass was reason enough to spend a weekend in Corning, NY. Besides, it's been four long, long, long weeks since returning from Florida! Staying at The Radisson we were a one minute walk from the historic Gaffer District and five minutes, via a pedestrian bridge over the Chemung river, from the glass museum.
---
---
---
---
---
Section updated: Monday, June 8, 2015
---
---
---
---
---
---
---
Section added: Tuesday, March 21, 2015
---
---
Section added: Saturday, December 20, 2014
---
---
Section added: Monday, February 24, 2014
---
---
.

Section added: Monday, February 10, 2014

---
---
Section added: Monday, February 10, 2014
---
---
Section added: Monday, February 10, 2014
---
---
---
---
---
---
---
---
---
---
---
---
I compete as an adult amateur in the sport of dressage. For years I've ridden leased, untrained horses. Is it the horse or my meager skills keeping me on the lowest rung? To find out I'd hoped to lease a trained horse but, after years of searching, none were available. Though I swore to never own a horse with its attendant expense I relented. After travelling to four states and riding a half dozen horses I found Indy, a warmblood / quarter horse cross gelding at Upper Creek Farm in Stockton, NJ.
The trainer and owner of the farm, Kim, was friendly and helpful. Indy's owner, Lisa, came to the barn to insure her baby would go to a good home. Once Kim had warmed him up it was my turn. As soon as I sat in the saddle I felt comfortable and safe on him. We started with short walks and halts, making sure to find the "stop" button, multiple times :-) Transitions from walk to trot and trot to canter were smooth. Unlike previous mounts Indy took up the canter after a gentle push behind the girth rather than a slap on the rump. We followed with circles, squares, diamond and serpentine patterns.
During plunking down gobs of $$$ to buy him Indy had to pass a veterinary check. Think taking that used car to an independent mechanic. Having passed the check and completing final haggling over price my teacher, Donna, and I drove to Upper Creek Farm pulling a horse trailer behind us. Bringing the trailer didn't strengthen our bargaining position ! Donna rode Indy then gave us a lesson, deciding we were well matched. An hour later we were on our way home with horse in tow.
I believe changing a horse's barn name invites bad karma. Indy he was and Indy he's remained. A show name's another matter. His new one is Amber's Echo, in honor of the first dressage horse, Amber, I rode at my friend Mary's farm in Virginia. Thank you Mary. I've dreamt of being a handsome white knight on a big white horse … I'm halfway home!
---
---
---
---
---
---
---
---
---
---
---
---
---
---
---
---
---
---
---
---
Updated: 7/11/2008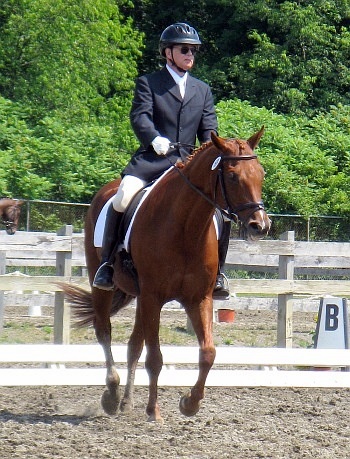 For several years we've participating in schooling, i.e. practice, shows, were we could ride before a judge without the overhead of a recognized show. This year we were ready, I sincerely hoped, to move up to the big time! Pictured, left, are Tyler and I performing the Training Level I test at the Cayuga Dressage and Cross Training Association sanctioned dressage competition in Horseheads, NY. Despite the 6 inches of mud in the arena, courtesy of a cloudburst the previous day, we enjoyed ourselves.
Competing in the show gave me a new perspective. Used to watching other riders perform I didn't see a single test all the way through this year. There was always something to do. Horses are wary of everything new. Twice each day we toured the grounds while I showed Tyler where all the horse-eating monsters lived. Water buckets need filling and hay provided. All that hay had to come out somewhere and that had to be shoveled. Dressing inside a hot, cramped, trailer I know now how Superman feels changing in a phone booth.
The months before this show Tyler'd undergone a personality change ... not for the best. When I wanted stop he wanted to walk, trot when asked to walk and cantered when cued to trot. As for cantering, let's not go there. Warming up the evening before the first day of competition he pretty much ignored me. Had he read my mind something about a glue factory would've been in his thoughts. Saturday and Sunday he behaved, for him, and I was pleased with the scores for the four tests. Judging was tough but fair and consistent. Scores in the 60's (out of 100) are considered good. We earned scores in the mid-50's coming home with a second, third and two fourth place ribbons. Again, we were the high point male / male pair. Again, I was the only male entered. This is a great sport!
---
---
Updated: 7/11/2008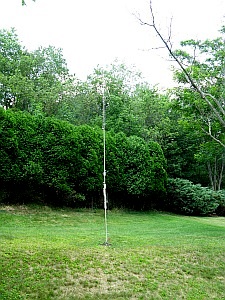 Even in grade school radio fascinated me. It was magic, your voice picked up by a microphone and heard on the other side of the world. I earned my first "ham" license in 1960 just prior to starting high school. From then on through college and into my first job I communicated with ham operators throughout the world. In the early 80's other interests replaced radio and, though holding my license, I was inactive.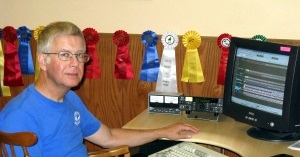 Once retired, interest waxed anew. In the intervening years technological change has been amazing. No longer using a microphone I type at a keyboard. The computer encodes my words, sends them to the transmitter and off they go where the process runs in reverse. Replacing my top-of-the-line 1970's equipment, requiring 4 feet of desk space to hold three boxes weighing up to 35 pounds each, are two, small, cigar box size units hooked to a computer. Pictured right is Ed with his new toys.
Antennas however don't shrink in size. After the attic antenna failed to put out much of a signal a fellow ham and former work colleague at Lockheed Martin, Mike G. suggested I look at vertical antennas. Pictured left is the new backyard vertical. At 24 feet tall complete with its' coils, and 2500 feet of Copper wire buried in the yard I'm communicating with the world again.
The magic hasn't changed though. Communicating with the Ukraine today is as much fun as communicating across town 48 years ago.
---
---
Updated: 4/21/2008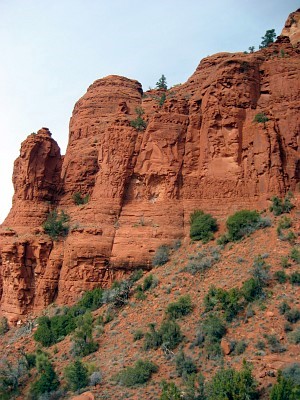 Pastels ... as we approached Sedona in the Red Rock country of northern Arizona colors became muted with the palette, aside from the black of blacktop and pine tree's dark greens, reduced to shades of tans, reds and browns.
Views similar to the one pictured ((left) are typical of the terrain around Sedona. This shot was taken from the main street of a small development in the Village of Oak Creek just south of Sedona proper. Imagine this view greeting you in morning light as you awaken.
February 17thJoyce, her brother Ed and I enjoyed a week long group tour, Sedona and The Grand Canyon, presented by the University of Northern Arizona through the Elderhostel organization.
Morning lectures by naturalists, geologists and ecologists prepared us for day trips to Sedona and Jerome, AZ, and the Montezuma and Tuzigoot National Monuments. The highlight of the trip was undoubtedly the day spent on the South rim of the Grand Canyon.
The group featured an eclectic mix of (primarily) retirees from across the United States. Those of us from the East Coast and Midwest welcomed the warmer weather and sunshine while those from the West Coast felt more comfortable with a few more layers of clothing applied.
Sedona is a tourist town. A free trolley service runs through the primary shopping areas and pedestrians have the right-of-way. Tourist bobbles and paintings and sculptures suitable for a big city gallery are found next to each other. Browsing upscale galleries we saw handmade Hopi and Navajo rugs ranging from table place mat to room size. Accompanying each piece is documentation and the story of its' maker. Joyce and her brother, Ed, each bought place mat size pieces. The store carried hand made saddle blankets but I couldn't see putting one on a hot, sweaty horse at the price. Touring art galleries, and being in the southwest, I was in horse heaven and came home with a print "Mustang Storm."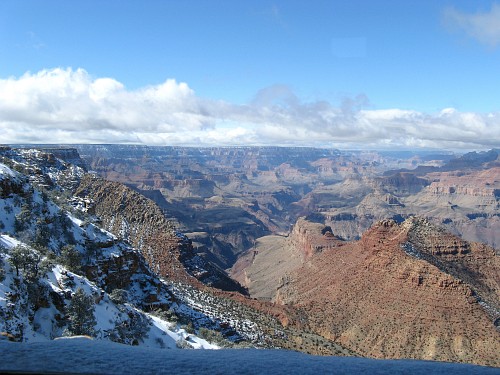 We left Sedona for the Canyon and, rising out of the valley, encountered more and more snow until, reaching Flagstaff, AZ, snow was all around and deep. Dozens of cinder cones, extinct volcanoes, surround Flagstaff. If you live there it's a common site but was eerie to me.
I wasn't prepared for the immensity of the Grand Canyon. There's no place to stand and take it all in. I'd unconsciously expected a wide chasm with the Colorado River, far below, running through it, forgetting that in 15 million years or so the river had plenty of time to wander. I can't really say we ever saw the north rim. Our first look at the canyon was at the site where the Little Colorado joins the canyon.
No, we haven't each suddenly gained 20 pounds (pictured left). A stiff breeze and temperatures in the low 30's had us wearing every layer of fleece and polypro we had.
We walked the trail from the main ranger station to the site of Bright Angel Lodge. Taking pictures of couples, strangers, I did my best to improve Chinese - American relations. Sitting in the lodge one could here languages from all over the world spoken.
I don't understand why more people don't fall into the canyon. Along this 2.3 mile trail only a few lookouts included guard rails. One could see footprints in the snow where the more foolhardy walked out to the edge for an unforgettable, and perhaps last, vacation photo.
---
---
Updated: 12/16/2007
| | |
| --- | --- |
| Ice Cat | Dragon |
| | |
| Dove | Bagle |
| | |
| Boot | Penguin |
| | |
| "Weed" | UPS Truck |
---
---
---
---
---
---
---
---
---
---
---
---
---
---
---
Updated: 10/2/2005
My previous horse, Demi, was sold. After a few misadventures on Tyler, broken rib, mine, I met "K" as in "Special K." "K" is a 16 hand imported Dutch Warmblood gelding. Though primarily a jumper he's a good dressage mount for me.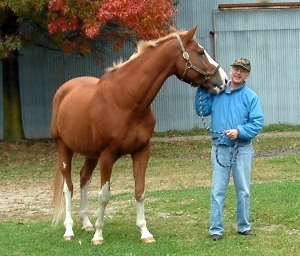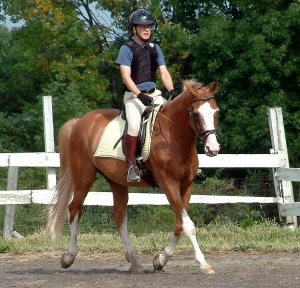 An update ... "K" returned to his downstate home late in September. I'm very pleased to back with Tyler, a chestnut coated Quarter horse / thoroughbred cross. Unlike "K" he can turn to the left and doesn't swat me with his tail during grooming. He's a treat to ride. "K" wherever you are now, thanks for all you taught me.

---
---
Updated: 7/24/2005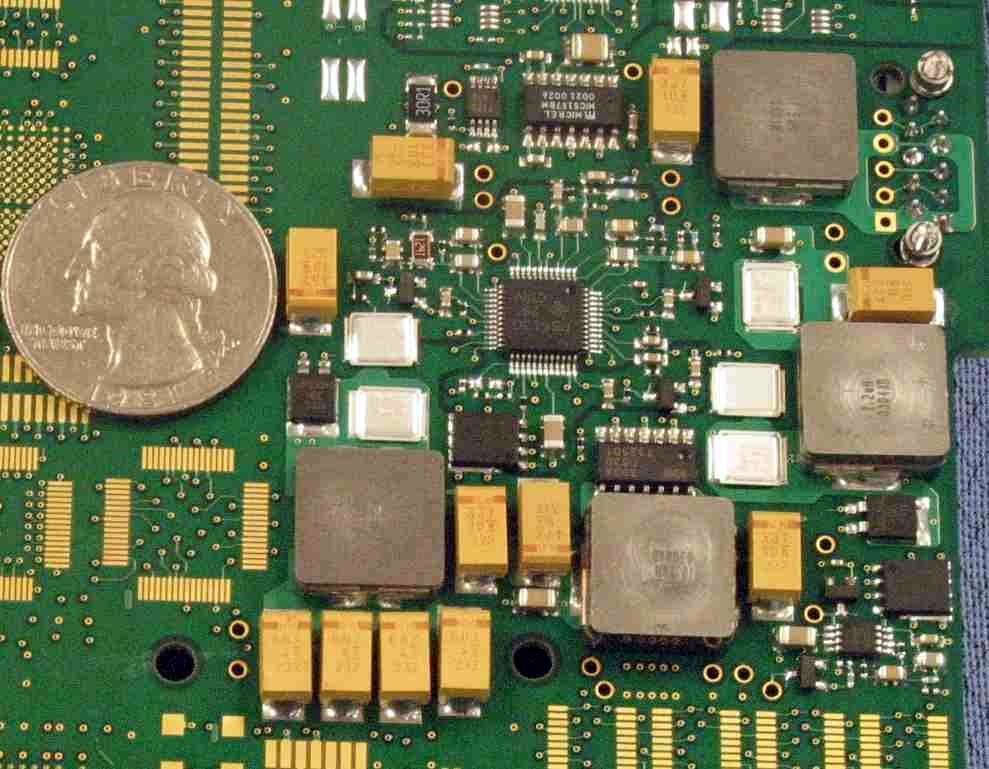 ---
---
Updated: 3/31/2004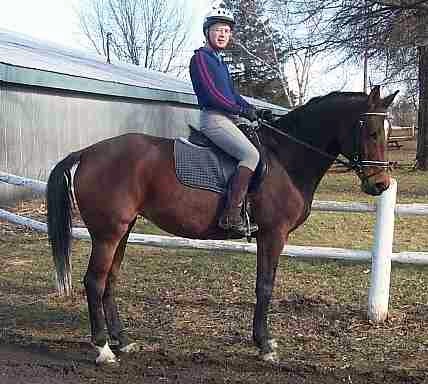 ---
---
Updated: 7/25/2003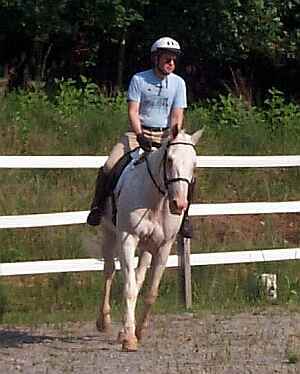 ---
---
Updated:4/25/2002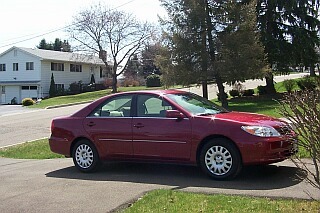 ---
---
Updated: 1/24/2002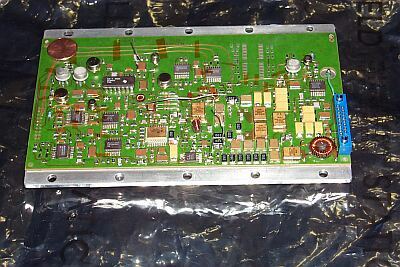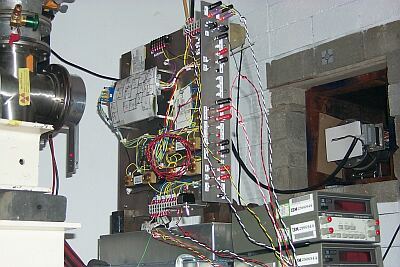 ---
---
Updated: 11/01/2001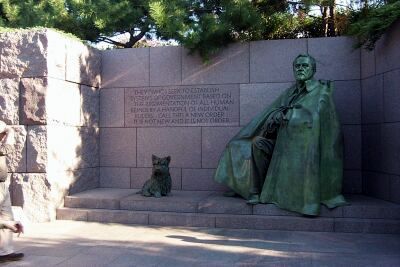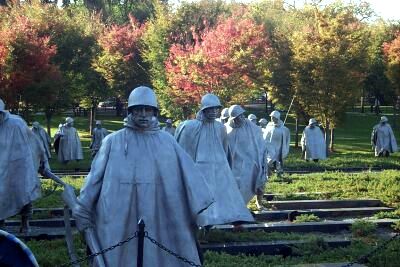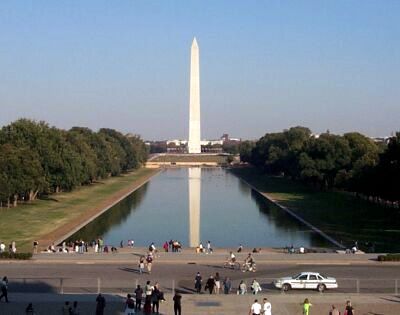 ---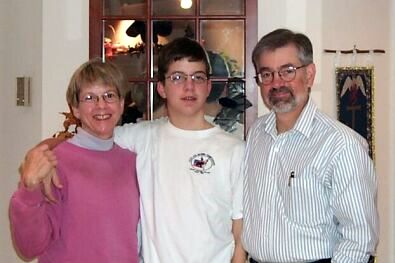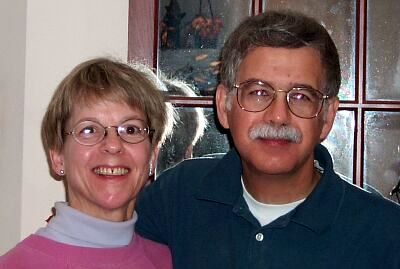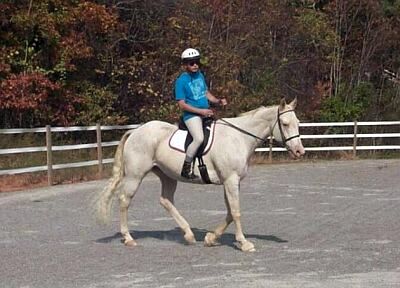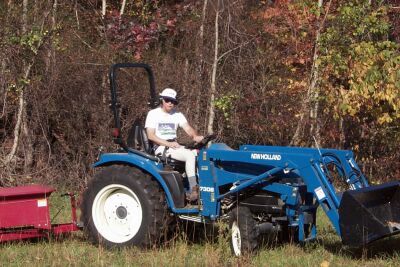 ---
---
Updated: 4/25/2002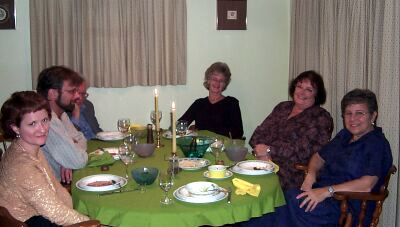 ---
---
Updated: 10/28/2001
---
---
Updated: 8/21/2001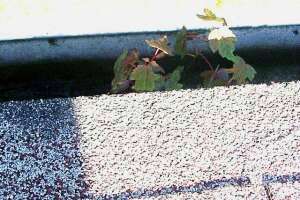 ---
---
Updated: 7/7/2000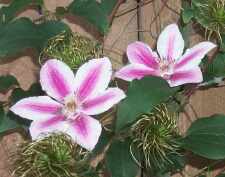 Here are pictures from mom's garden that were taken over a July 4th visit to Akron.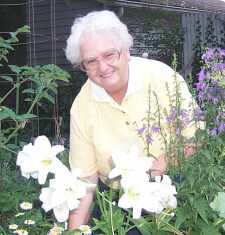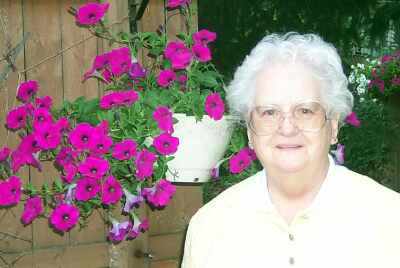 ---
---